Artist Profile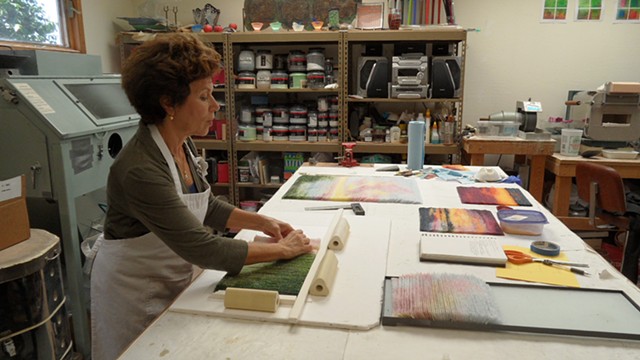 Susan J. Longini has been involved in the glass world for over 3 decades as studio artist, educator, and administrator.
She received her Bachelor of Fine Arts with a major in sculpture from the University of Michigan and did postgraduate studies in glass at San Jose State University and California College of the Arts. From 1986 to 2003 she was Adjunct Professor and head of the Glass Program at Ohlone College in Fremont, CA and Executive Director of the Bay Area Glass Institute (BAGI), in San Jose, CA 2002-2004. From 2000-2010 she was a member of the City of Fremont Art Review Board, in charge of awarding artists grants for Art in Public Places projects. From 2005-2016 she served on the board of the Glass Alliance of Northern California (GLANC), a nonprofit organization whose mission is to further education and appreciation of glass art. She is also Program Manager for boxART!, in charge of transforming Fremont's 170 traffic signal control boxes into works of art.
Susan's work is exhibited throughout the United States and is in public and private collections in the U.S., Europe, and Asia. She is a frequent lecturer, guest curator and juror. Her particular interest in glass is pâte de verre, literally "paste of glass", which uses glass frits and powders formed by hand and placed in a mold, then fired in a kiln to produce one-of-a-kind sculptures.
--- PROFESSIONAL EXPERIENCE ---
• Studio Glass Artist, 1976-present
• Program Manager, City of Fremont Utility Box Art Project, 2014-present
• Guest Curator, Textile Conversations in Glass, San Jose Museum of - Quilts & Textiles, San Jose, CA 2015
• Co-Chair, Glass Art Society 2015 conference, 2014-2015
• President,Glass Alliance of Northern California. 2005-2015
• Moderator, Collector's Panel, Cantor Art Center, Stanford University, 2013
• Moderator, Collector's Panel, California Contributions Symposium, The - Crucible, Oakland, CA, 2012
• Residency, Northlands Glass Center, Lybster, Scotland, 2010
• Presenter, Glass Art Society Conference, Portland, OR, 2008
• City of Fremont Art Review Board, 2001-2010, President 2006, 2009
• Guest Instructor, Bullesye Glass Company, Portland, OR 2007
• Guest Instructor, The Crucible, Oakland CA 2006
• Arts Council Silicon Valley Grants Juror, 2006, San Jose, CA
• Presenter, Glass Art Society Conference, New Orleans, LA, 2004
• Executive Director, Bay Area Glass Institute, San Jose, CA 2002-2004
• Faculty, Ohlone College Art Dept, Glass Program, Fremont, CA, 1987-2004
• Presenter, BECon Glass Educator's Conference, Portland, OR, 2003
• Presenter, California Glass Exchange, Cal State Fullerton, 2003
• Co-coordinator, California Glass Exchange 2002 (with Mary B. White, San Jose State U.)
• City of Fremont Olive Hyde Art Guild Program Chair, 2002-2003
• Guest Instructor, Kittrell/Riffkind Art Glass, Dallas, TX 1998, 1999, 2002
• Guest Curator, "New Directions in Glass", Frederick Louis Gallery Fremont, CA, 1999
• Bullseye Glass College Educators Residency, Portland, OR 1995
• Guest Curator, "Cast in Light," Ohlone College Gallery, Fremont, CA 1994
• Guest Curator, "Glass Beyond Function", Olive Hyde Gallery, Fremont, CA 1994
--- AWARDS AND HONORS ---
• 2016 Alameda County Arts Leadership Award
• 2005 Arts Council Silicon Valley Fellowship
--- EDUCATION ---
Postgraduate work in glass:
• San Jose State University, 1991
• Camp Colton Glass Program, 1990
• California College of Arts and Crafts, 1982
• Pilchuck School, 1980, 1982
• Glass apprenticeship: Acme Bijou Design, Denver, CO 1976-77
Bachelor of Fine Arts, University of Michigan 1969
(Edit)